Okay, so there's a strike happening from midnight tonight GMT until midnight tomorrow night GMT. Lots of people are doing it, lots of people aren't, and for all types of reasons. I personally am not doing it, for many reasons, one of those being, like hell it's going to make any difference. Anyway. Instead of striking I thought why not have a porn party. Cos well they're generally lots of fun.

This post isn't for comments about the strike, it is for teh porn. Not taking part in the strike, come write porn! it's fun for all the family

Obligatory Warning/Disclaimer: Comments may contain material of an NC17 variety. If you're underage, please do not read. Also there may be spoilers of the Torchwood variety.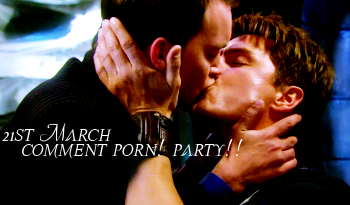 Spread the word!!!! and have fun!
This is a free for all, got something you wanna write, write it, and if you want to leave a prompt for someone to pick up, go ahead XD
All fandoms welcome

Fandom is having fun tonight, got some more fun to pimp

miss_zedem is holding a fluff!battle

misslucyjane will be holding a porn!battle
and
maverick0324 will be holding a crack!battle